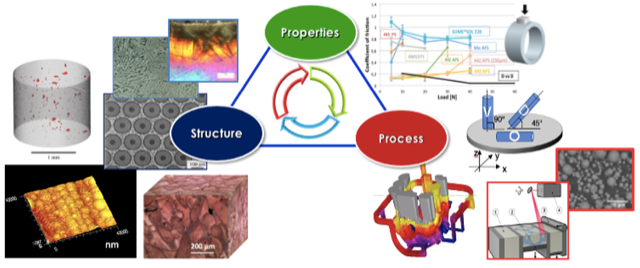 This facility is equipped for full microstructural and mechanical characterization of metallic materials.
Microstructural characterisation:
Metallographic preparation equipment
Microscopes (optical microscope with bright field, dark field and polarized light, scanning electron microscope with EDS and EBSD probes)
X-Ray Diffractometer (XRD)
Glow-Discharge Optical Emission Spectroscpy (GDOES) system for the determination of the elemental chemical composition (both in bulk and by concentration vs depth profiles)
Mechanical testing:
Tensile-compression testing machines
Fatigue testing machines (axial and rotating bending, both at room and at high temperature)
Charpy impact testing equipment
Hardness and microhardness testers
Tribometers (sliding: dry or lubricated, both at room and at high temperature, microabrasion).
Heat treatment:
Induction casting system with controlled atmosphere, magnetic and ultrasonic stirring
Air and controlled-atmosphere ovens
Equipment for thermal analysis (DTA/TGA)
Laboratory staff: Antonio Agostani, Iuri Boromei.
Contacts
Iuri Boromei

D cat. - technical, scientific and data processing area

DIN - Servizi tecnici di laboratorio

Viale Risorgimento 4

Bologna (BO)

Tel: +39 051 20 9 3469

DIN - Servizi tecnici di laboratorio

Viale Risorgimento 4

Staff