Propulsion and Machinery Laboratory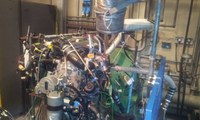 The laboratory houses the equipment and instruments used for research and teaching in the field of automotive and aerospace propulsion.
The research areas currently active mainly concern the study and testing of common internal combustion propulsion systems, from alternative petrol and diesel engines to aeronautical turbogas systems and solid propellant rocket and hybrid space systems.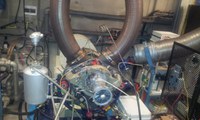 The development of algorithms for real-time processing and post-processing of experimental data has as its main objective the realisation and validation of dynamic models for simulating the operation of internal combustion engines and the definition of innovative methods of control and diagnosis.
The laboratory is located in the new property at Via Cicognani 5/7*, within the Aerospace Technology Hub in Forlì.
* The laboratory was recently relocated (summer 2021) from Via Seganti 103 to its new location in Via Cicognani 5/7, within the Aerospace Technology Hub in Forlì. At the moment, major renovation work is being done on the building, so teaching and workshops with students, internships and dissertations are temporarily suspended.
Resources
Inside the propulsion and machinery laboratory there are three test cells equipped with dynamic eddy current brakes for the commissioning and operational analysis of reciprocating and turbogas engines, and a further external test bench for the operation of engines with propellers.
Each cell is equipped with a wide range of sensors for the acquisition and processing of the main performance quantities (pressures, temperatures, speeds, mass flow rates, etc.), as well as stations equipped with specific software developed on-site for engine control and brake bench management.
Automotive applications
The laboratory is equipped with three test benches for internal combustion engines. Two of these are currently fitted with a petrol engine (Suzuki Gsx-R 600) and a diesel engine (Fiat 1.3L Common-Rail Multi-Jet). Intense testing is being carried out on both engines to develop control-oriented models and innovative strategies to increase performance and reduce polluting emissions.
Aeronautical turbogas applications
Currently, an Allison 250 C18 turboshaft for helicopter use is in operation in the laboratory's test rooms, with the aim of collecting fundamental experimental data for the validation of real-time simulation models created in the Matlab/Simulink environment. The engine has a twin-shaft configuration with a free power turbine and is able to deliver a maximum power output of 320 hp @ 6000 rpm.
The thermodynamic cycle is characterised mainly by temperature, pressure and torque measurements.
Educational activities
Internships and thesis projects are carried out in the propulsion and machinery laboratory. Furthermore, the Propulsion and Machinery Laboratory is the venue for a number of practical lessons as part of several courses in Mechanical Engineering (Energy Systems and Machinery (CI), Energy Systems and Machinery LM, Internal Combustion Engines LM, Internal Combustion Engine Control LM) and Aerospace Engineering (Propulsion L, Advanced Propulsion Systems LM, Propulsion Laboratory).