Microsatellites and Space Microsystems Laboratory
This laboratory has been active since September 2003 and is located in Via Fontanelle 40 and Via Fontanelle 55 in Forlì. Its research is aimed at the realisation of small space systems with high levels of autonomy and innovation through the use of advanced technologies in the field of electronics, micromechanics and telecommunications.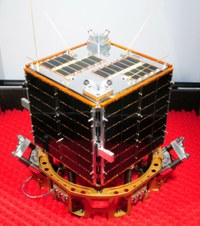 Activities
The laboratory's activities began with the development of ALMASat-1, the first university satellite entirely designed, manufactured and assembled at the Laboratory.
ALMASat-1 was launched aboard the inaugural launch of the VEGA launcher on 13 February 2012 from the Kourou Launch Base in French Guiana.
As a support to satellite operations, a fully automated ground station for transceiving data from low-orbit satellites (AMGS - Alma Mater Ground Station) was developed and has been operational since September 2003.
Other ongoing research includes:

- Participation in the European Space Agency (ESA) ESEO programme, the third project within the ESA Educational Programme. The ESEO satellite, due to be launched into low orbit in 2016, will house various scientific instruments developed by a number of European universities.

- Development of cold gas and hot gas monopropellant micropropulsion systems based on MEMS technology and used for the orbital and attitude control of microsatellites.

- Development of a high-precision pointing system for satellite earth stations (ALMATracker) with a pointing accuracy of 0.01°, positioning speed of 5°/s and angular accelerations of up to 8°/s2.
Resources
- Ground station with radio frequency system based on Icom radio modules, amplifiers and Terminal Node Controller (TNC) compliant with International Amateur Radio Union (IARU) specifications and standard AX.25 protocol. The capacity to receive telemetry data in UHF and S-band has recently been expanded with the integration of two Software Defined Radio (SDR - Ettus Research).

- Inspection system consisting of Olympus SZX7 optical microscope and Promon 500 high-frequency (up to 1100 Hz) acquisition camera from AOS Technology.
- Thermo-vacuum chamber (Thermo Scientific Haereaus) controllable in temperature in the range 20-120°C and pressure, 0.01-1 bar.

- Laser displacement sensor thrust balance for force measurements in the order of 1 mN or less.

The laboratory offers various opportunities to participate in internships and studies for three-year, master's or doctoral theses.
Contacts
Paolo Tortora

Person responsible

Full Professor

Dipartimento di Ingegneria Industriale

Via Fontanelle 40

Forlì (FC)

Tel: +39 0543 374 456

Senior assistant professor (fixed-term)

Dipartimento di Ingegneria Industriale

Via Fontanelle 40

Forlì (FC)

Tel: +39 0543 374 450