Virtual Reality Laboratory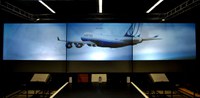 The Virtual Reality and Simulation Laboratory is the main headquarters of the activities of the Research Group involving Digital technologies and design methods for aerospace applications — Industrial Engineering - DIN (unibo.it).
The activities carried out within the Virtual Reality and Simulation Laboratory focus on the integration of technologies such as CAD (Computer Aided Design), CAID (Computer Aided Industrial Design), Virtual Reality, Augmented Reality and Reverse Engineering.
Established in Forlì in 2001, the laboratory has gained experience in the design, development and testing of innovative human-machine interfaces in industry, mainly in the aeronautical sector, as well as in the biomedical and cultural heritage sectors.
The laboratory partners with national and international organisations and companies such as Leonardo Velivoli (Clean Sky 1 and 2), Dassault Aviation (Clean Sky 2), ENAV S.p.A. (SESAR), Eurocontrol (SESAR), Italian Aerospace Research Centre (MIMA project), DLR (SESAR), ONERA (SESAR).

The laboratory is part of the Aerospace CIRI (Interdepartmental Centre for Industrial Research) of the University of Bologna.
The laboratory is located in Forlì at the campus in Via Fontanelle 40, on the ground floor.
Resources
The laboratory has equipment for Virtual/Augmented Reality and advanced interaction and for reverse engineering.
Augmented Reality
Microsoft Hololens is a commercial mixed reality device that enables optical-based technology to merge reality and digital content.
The lab is equipped with three Hololens devices: one Hololens 1 and two Hololens 2 devices that can be used by several users at the same time.
Virtual Reality
Cave Like
CAVE (Cave Automatic Virtual Environment) is a reconfigurable immersive virtual environment. It is inspired by the interactive virtual systems that were initially conceived for the exploration of large-scale three-dimensional models on a 1:1 scale. Three state-of-the-art projectors illuminate three screens measuring 2.5 m x 1.9 m, resulting in a total projection area of approximately 14 m2. The system supports active stereoscopic display.
Stereo Theatre
STEREO THEATRE is a 3D visualisation system based on passive stereoscopy. It consists of a Silver D-lite screen and two DLP projectors mounted on a dedicated stand. This equipment is ideal for multi-user applications where several people must observe three-dimensional representations at the same time.
Table Top
The TABLE TOP is based on the concept of a horizontal screen projected from below. It is suitable for all applications where viewing from above is the user's natural point of view.
Advanced Interaction
Gestural interface
In the laboratory experiments are performed using gestural devices for pointing and selecting three-dimensional models in virtual environments represented on different visualisation systems.
BCI Brain Computer Interfaces
Recently, research was begun on the use of BCIs (Brain Computer Interfaces) and their implementation in aerospace. A commercial system (EMOTIV EPOC Neuroheadset) was acquired for this purpose.
Reverse Engineering
Roland Picza Pix-30
This is a piezoelectric digitiser for three-dimensional scanning of objects with very high precision in 50 micron steps.
Minolta Vivid 9i
This is a system based on high-precision laser triangulation. The device is equipped with a set of three interchangeable lenses. It can capture hundreds of thousands of points on the surface of an object in a single shot.
Educational activities
The laboratory supports the educational activities of the courses on Design Methods for Industrial Engineering, Fundamentals and Methods for the Aerospace Industry, the Product Design Laboratory and the Aerospace Technologies and Materials course.
Furthermore, students in Mechanical Engineering, Aerospace Engineering and Biomedical Engineering participate in internships and theses projects, and graduate students in Mechanics and Advanced Engineering Sciences develop applications.
Current research projects
H2020 – SESAR DTT Digital Technologies for Tower
H2020 – CLEAN SKY 2 CASTLE CAbin Systems design Toward passenger welLbEing
Completed research projects
H2020 –SESAR RETINA Resilient Synthetic Vision for Advanced Control Tower Air Navigation Service Provision
H2020 – SESAR MINIMA MItigating Negative Impacts of Monitoring high levels of Automation
H2020 – SESAR AUTOPACE AUTOmation PACE
FP7 – COOPERATION- AAT-TRANSPORT - ALICIA - All Condition Operations and Innovative Cockpit Infrastructure.
FP7 – CLEAN SKY JU – GRA - Green Regional Aircraft.
TEMPUS PROJECT - SF HEAT - Sustainable Framework for Higher Education in Aeronautical Technologies.